Nol-Tec's equipment has been used within the battery sector since 2007. The first application of our technology involved the use of our Pneumatic Blend Cone (M277 and M244). Since then, we have continued to expand our project experience to include signature industry projects that highlight our ability to innovate and engineer complex production facilities for processing cathode, anode and electrical battery pack potting materials.
"We cannot solve problems with the kind of thinking we employed when we came up with them." — Albert Einstein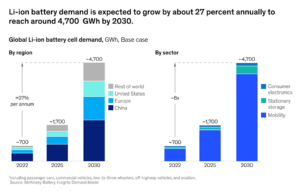 Successful outcomes – the industry continues to expand rapidly and requires the development of innovative material handling solutions. Choosing the right partner that understands how to innovate while under intense schedule pressure is critical to a successful outcome. Nol-Tec excels at providing world-class engineered bulk material solutions. We use our proven process, with insights and knowledge that has taken decades to accumulate, combined with high quality fabricated equipment sized for your unique application. We prioritize plant safety, equipment functionality and ease of maintenance to ensure that your facility not only starts up on time but operates safely and efficiently. Our commitment to our clients is embodied in our Trusted to Deliver® promise – we deliver equipment, systems and peace of mind to our clients.
Battery Materials Handled
Nol-Tec possesses a deep understanding of materials commonly used in the industry. We are well-versed in solving material handling challenges such as reducing wear due to the abrasiveness of materials like cathode powder, metal hydroxides, beta spodumene, nickel, manganese and cobalt. We also ensure proper flow out of bins when handling poor flowing materials such as milled lithium (lithium doesn't flow well when milled) and reducing metal contamination caused by abrasive powders (metal contamination is detrimental to battery performance).
Top four design considerations for battery/eV plants
1. DENSE PHASE PNEUMATIC CONVEYING – to reduce component wear and metal contamination during material transfer.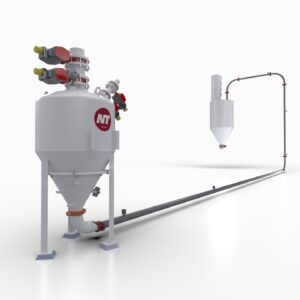 Reducing component wear within a manufacturing process plays a crucial role in minimizing the possibility of metal contamination. When conveying an abrasive material such as metal hydroxides or cathode powder, the wear and tear of components can lead to the release of small metal particles into the process. These particles can contaminate the products, leading to compromised performance and quality.
By designing systems to utilize dense phase pneumatic conveying, an emphasis is placed on reducing material velocities, resulting in less component wear, therefore lower maintenance and no metal contamination, ensuring a higher quality product.
2. CLOSED LOOP SYSTEMS – to eliminate moisture and other contaminants while reducing operating costs.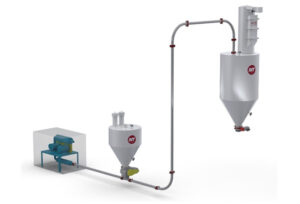 Materials like lithium hydroxide and metal hydroxides may negatively react to moisture or other contaminants and elements found in atmospheric air. Designing systems with closed-loop pneumatic conveying offers significant benefits in reducing moisture and other forms of contamination. In open systems, atmospheric air can introduce moisture, and other contaminants into the material handling process, posing risks to the quality and integrity of the materials. Closed loop conveying, on the other hand, provides a controlled and enclosed environment for material transfer, allowing only conditioned gas to contact the material. Closed loop systems also add the benefit of reduced operating costs by re-using expensive conditioned air instead of continuously exhausting gas out of the system.
3. PNEUMATICAL BLENDING MATERIALS – to reduce metal contamination and dust exposure.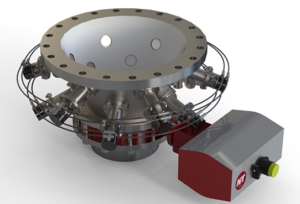 Pneumatic blending offers a valuable solution to both reduce metal contamination, and enhance operator safety by minimizing dust exposure. Traditional mechanical blending methods generate excessive shear forces that can lead to the release of small metal particles into the process. However, pneumatic blending is a low shear blending process used to gently mix or homogenize powdered material. By utilizing controlled pulses of compressed air to blend material, contact and abrasion between metal components is significantly reduced, mitigating the generation of metal particles. Furthermore, the use of pneumatic blending contains and controls dust in an airtight hopper, eliminating the release of hazardous air borne particles and minimizing operator exposure.
4. EFFECTIVE DUST CONTROL – to ensure a safe manufacturing environment for operators.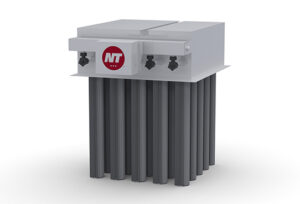 The combination of pneumatic conveying, pneumatic blending and dust collection systems designed to reduce operator exposure collectively contribute to significantly enhancing operator safety as it relates to hazardous dust exposure. Pneumatic conveying systems employ enclosed pipelines and controlled airflow to transfer materials, effectively minimizing dust release into the surrounding environment. This containment reduces the risk of inhalation and potential health hazards for operators. Additionally, pneumatic blending techniques, which utilize a contained and low shear blending environment, further reduce operator exposure compared to other traditional mechanical mixers.
How can we help?
Maybe you need a new system, an upgrade to an existing system, or a retrofit. Regardless of size, industry, or material, we are here to help you get your project and product moving.
Get in touch