powder processing equipment & systems for food & beverage
We understand that all food & beverage materials have unique properties that help determine their quality and capacity for varied applications. We design and manufacture sanitary equipment that complies with strict agricultural associations and government agencies requirements. We know that safety, ingredient accuracy, cleanliness, dust containment, and limiting all types of cross-contamination are important to your business.
End Products

Bakery Products

Beverages

Candy & Confectionery

Cereals

Dairy Products

Fats & Oils

Pet Foods

Snack Foods
The Nol-tec advantage
We go beyond immediate project needs to understand your business, products, and stakeholders. We share your commitment to product performance, sustainable practices, and innovative solutions. We understand that transparency in the food & beverage industry is more important than ever with consumers demanding sustainability, clean labels, and organic food. We have the technical expertise, industry experience, and proven technology to help your company produce superior food and beverages to nourish the world for generations to come.
Global Seafood Processor Upgrades Legacy System
One of the largest wild-caught, sustainable seafood processors in the world was committed to modernizing the equipment in its manufacturing facility. Since the 1980s, the processor has been producing Surimi, a frozen fish protein manufactured from Pollock and commonly used as the main ingredient in many imitation crab products. The Surimi production process at the facility consists of an upstairs powder room where a sugar, sorbitol, and preservative recipe is blended and then transported via a powder handling system to the lower level fish processing floor.
View Case Study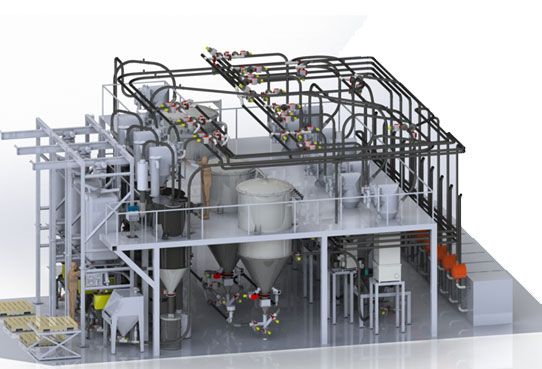 What Our Clients Are Saying
"The engineering was spectacular. The process was very professional. World class!"
– Project Manager, Global Seafood Processor
How can we help?
Maybe you need a new system, an upgrade to an existing system, or a retrofit. Regardless of size, industry, or material, we are here to help you get your project and product moving.
Get in touch