Blending Cone
The Nol-Tec blending cone homogeneously blends dry materials in pneumatic transporters or atmospheric bins.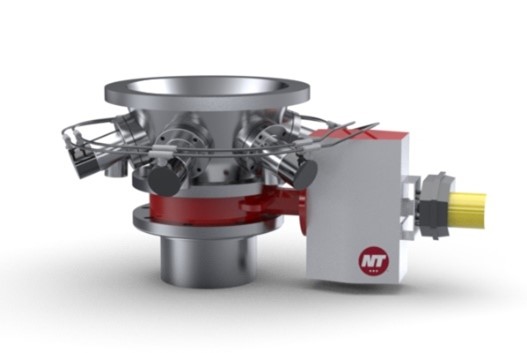 Specifications
To learn more about our Blending Cone, please review the specifications below. If you have additional questions, please feel free to hit the get in touch button below and someone from our team will follow-up promptly.
Standard Features:
Six air injection valve assemblies controlled by single solenoid valve for piston pulsing
Ceramic valve seat directs air into material at various angles
Abrasion-resistant urethane valve seal
Non-restrictive discharge valve with positive position indicator
Regulated air supply manifold; 2" pipe
Wear parts are replaceable without removing blending cone from position
OPTIONAL FEATURES:
Individual solenoid valves for aerator sequencing
Interior coatings and finishes
Stainless steel construction
Hazardous location design
Special mounting flange
Sanitary design(M357C)
High-temperature design
Electrical: 110-120V; 50-60Hz
SPECIFICATIONS:
Weight: 7 lbs per aerator valve; 175 lbs total
Compressed air: Clean and dry at 80 PSIG minimum
Electrical: 24 VDC
Temperature: 200° F
Resources
We have a vast knowledge base of research and hands-on experience that covers topics from market trends to complex dry bulk material handling challenges.
insights
Why the Nol-Tec Pneumatic Blender is Unique Compared to Other Pneumatic Blender Designs
LEARN MORE
How can we help?
Maybe you need a new system, an upgrade to an existing system, or a retrofit. Regardless of size, industry, or material, we are here to help you get your project and product moving.
Get in touch