Project Support At Every Step
We build relationships grounded in trust. We know that the team of people behind the equipment and systems is an invaluable support network for our clients. We hear time and again that our engineering, product performance, and client service is unmatched in the marketplace.
Test Lab
We have an in-house, state-of-the-art test lab outfitted with full-size equipment and systems. We can simulate actual field conditions and current bulk material handling process.
Learn More
Engineering
We have experienced, multi-disciplined designers and engineers who have partnered with clients from many industries to oversee projects from napkin concept to commissioning.
Learn More
Fabrication & Assembly
We fabricate and pre-assemble modular components that undergo FATs and final QA/QC to verify that it is built and operating in accordance with design specifications prior to shipment.
Installation
We provide installation supervision and can offer turn-key installation support through our construction partners.
Startup & Commissioning
We offer onsite services for startup & commissioning including training to ensure a smooth transition to the operations team.
Spare Parts & Aftermarket
We help clients prepare a spare parts & aftermarket support plan and have a team of service professionals available for on-site needs.
Global Seafood Processor Upgrades Legacy System
One of the largest wild-caught, sustainable seafood processors in the world was committed to modernizing the equipment in its manufacturing facility. Since the 1980s, the processor has been producing Surimi, a frozen fish protein manufactured from Pollock and commonly used as the main ingredient in many imitation crab products. The Surimi production process at the facility consists of an upstairs powder room where a sugar, sorbitol, and preservative recipe is blended and then transported via a powder handling system to the lower level fish processing floor.
View case study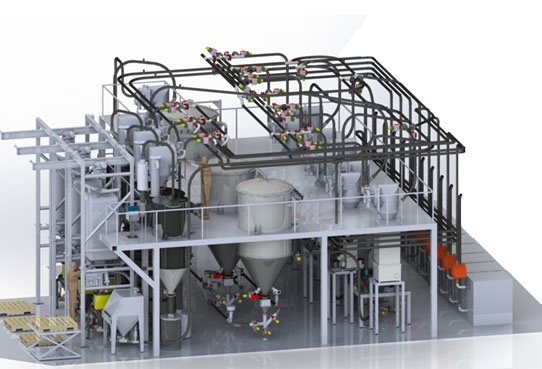 What Our Clients Are Saying
"Nol-Tec was responsive to our toughest applications and problems. The services provided have been excellent and much appreciated."
– Engineering Supervisor, Multinational Construction Material Producer
"Nol-Tec is easy to work with, pays attention to our research issues, makes things work for us, and they show a real interest in making our projects successful."
– Project Manager, Major Utility Company
"The engineering was spectacular. The process was very professional. World class!"
– Project Manager, Global Seafood Processor
How can we help?
Maybe you need a new system, an upgrade to an existing system, or a retrofit. Regardless of size, industry, or material, we are here to help you get your project and product moving.
Get in touch