Gentler Way To Convey
Our system incorporates low gas volume at high pressure, conveying materials through an enclosed pipe in slug form at a controlled product velocity. It conveys one of two ways: pressure or vacuum. This type of system is favored for its low operating costs, basic maintenance, reduced material segregation & degradation, and minimal system wear. This method is typically selected for moving material from a single collection point to either single or multiple destination points. Common materials suitable for dense phase conveying include sand, cement, mixed batch, chemicals, limestone, pet food, and others.
System Explained
We understand that processes change, so we design flexible systems to evolve with your dynamic needs.
Air Assist™ Technology Benefits
Exclusive Air Assist™ technology is strategically placed along the convey line to inject air enhancing efficiency, lowering overall resistance, decreasing air pressure requirements, and improving material flow.
Non-Purge Concept Advantages
Material can be intentionally left in the convey line, further minimizing ill effects from high velocity purges. This helps prevent material attrition and component wear, costly maintenance, and plant downtime.
Continuous Material Transport Benefits
Continuous transporting allows for continuous conveying of materials without a stoppage for de-pressurizing and refilling of the vessel.
Low Operating Costs
Efficient use of gas in an enclosed system translates into lower power consumption and operating costs, at the same time eliminating any material waste.
Pressure or Vacuum Options
The use of vacuum and pressure conveying options facilitates the handling of materials from a single collection point and can distribute to single or multiple destination points.
Solids Fluidization Capabilities
Some materials of differing sizes and shapes need to be fluidized by adding gas to move like a liquid throughout the system to prevent plugging.
Global Seafood Processor Upgrades Legacy System
One of the largest wild-caught, sustainable seafood processors in the world was committed to modernizing the equipment in its manufacturing facility. Since the 1980s, the processor has been producing Surimi, a frozen fish protein manufactured from Pollock and commonly used as the main ingredient in many imitation crab products. The Surimi production process at the facility consists of an upstairs powder room where a sugar, sorbitol, and preservative recipe is blended and then transported via a powder handling system to the lower level fish processing floor.
View Case Study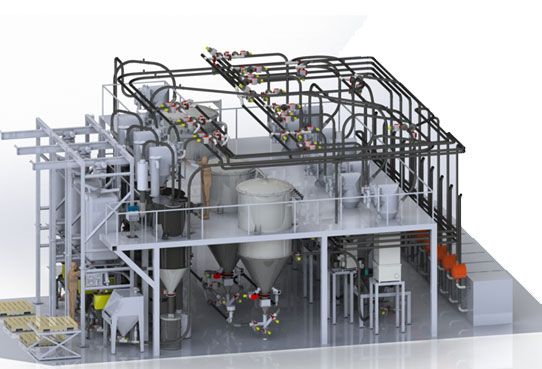 Resources
We have a vast knowledge base of research and hands-on experience that covers topics from market trends to complex dry bulk material handling challenges.
Insights
Common Differences Between Dense Phase Pressure Conveying and Dense Phase Vacuum Conveying
Read More
How can we help?
Maybe you need a new system, an upgrade to an existing system, or a retrofit. Regardless of size, industry, or material, we are here to help you get your project and product moving.
Get in touch