Global Seafood Processor Upgrades Legacy System
One of the largest wild-caught, sustainable seafood processors in the world was committed to modernizing the equipment in its manufacturing facility. Since the 1980s, the processor has been producing Surimi, a frozen fish protein manufactured from Pollock and commonly used as the main ingredient in many imitation crab products. The Surimi production process at the facility consists of an upstairs powder room where a sugar, sorbitol, and preservative recipe is blended and then transported via a powder handling system to the lower level fish processing floor.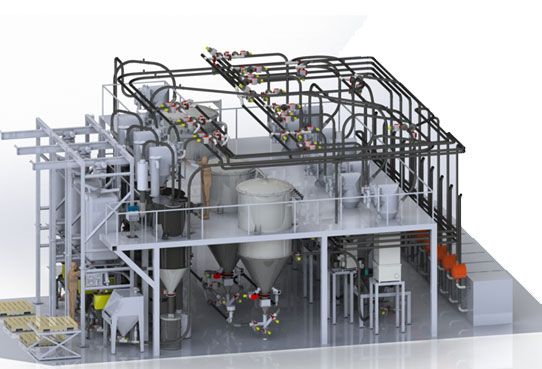 How We Helped
The legacy powder handling system was comprised of pneumatic conveying, batching, and blending equipment that was functional, but became antiquated. Spare parts were hard to source which caused maintenance difficulties. Additionally, part of the powder process was performed by manual labor which leaves potential for human error, health / environmental dust hazards, and inefficiencies on the production line. The processor knew it was time for a system upgrade but had reservations about replacing a system that had been contributing to the company's livelihood for nearly four decades. New technology is often accompanied by uncertainty, and their production team's confidence in the system upgrade was critical to the project's success. The processor needed a project partner with technical expertise, industry experience, and a collaborative approach – which is why they selected Nol-Tec to help them at this critical business juncture.
After many thoughtful conversations, Nol-Tec designed and manufactured a USDA-compliant system that unloads various sized bags of incoming ingredients. The process involves screening and delivering ingredients via a pneumatic dense phase convey system to the batching systems. A batching system weighs accurately measured ingredients to comply with their end customers order specifications. The weighed batch is pneumatic, dense phase vacuum conveyed at low product velocity to reduce degradation and minimize heat-induced friction as the ingredients travel to the blender receivers. Next, a proprietary pneumatic blender creates a homogeneous blend that is introduced to the Surimi line packaging phase on the lower level fish processing floor. The process is controlled by a programmable logic controller (PLC) with human-machine interface (HMI) displays. Operations, maintenance, and recipe management functions are controlled from inside the powder room using this system ensuring optimal performance. Nol-Tec partnered with the processor from concept to start-up and provides technical support as needed. Initial conversations about the system upgrade started a year prior to construction. The processor complimented Nol-Tec on our patience and steadfast support. One of the processor's project managers noted, "The engineering was spectacular. The process was very professional. World class!" He also acknowledged the Nol-Tec project manager's ability to overcome logistical obstacles in the procurement process and the coordination of shipped materials around peak processing season. Overall, Nol-Tec designed and manufactured a state-of-the-art system that minimized human error, improved safety, and increased production line efficiency.
Positive Outcome
Nol-Tec went beyond providing technical expertise and industry experience. A collaborative, empathetic approach was applied to ensure everyone from business support to production was comfortable and confident with the system replacement. When the CEO saw the system for the first time he jokingly asked, "What is this monstrosity?" The production team was skeptical too, but now they admiringly call the system Chitty Chitty Bang Bang. The system upgrade will serve the business well into the future allowing it to continue its commitment to sustainable fisheries and environmentally responsible food manufacturing.
What Our Clients Are Saying
"The engineering was spectacular. The process was very professional. World class!"
– Project Manager, Global Seafood Processor
How can we help?
Maybe you need a new system, an upgrade to an existing system, or a retrofit. Regardless of size, industry, or material, we are here to help you get your project and product moving.
Get in touch