USDA-Accepted Bulk Bag Filler
The Nol-Tec USDA-accepted bulk bag filler is a safe and effective work station for volumetrically loading bulk bags in dry dairy or sanitary applications.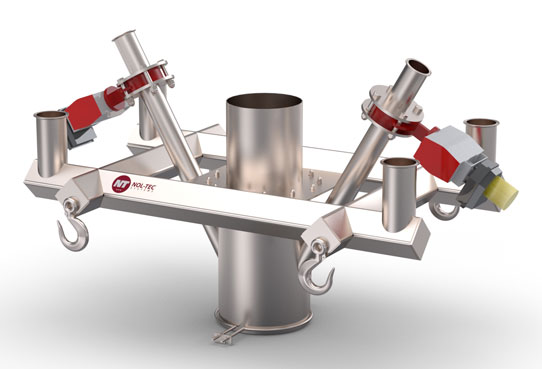 Specifications
To learn more about our USDA-Accepted Bulk Bag Filler, please review the specifications below. If you have additional questions, please feel free to hit the get in touch button below and someone from our team will follow-up promptly.
Standard Features:
Heavy-duty 304 stainless steel construction
Ra32 finish on product contact surfaces
Leg-free design
Hinged fill spout clamp
Quick-clean design
Four hooks for manual bag hanging
OPTIONAL FEATURES:
Various fill spout diameters
Scale base with controls to fill by weight
Various spool lengths for elevation adjustment
Flexible connector
Automated pneumatic and electrical controls
Scale Deck
SPECIFICATIONS:
Compressed air: Clean and dry at 80 PSIG minimum
Resources
We have a vast knowledge base of research and hands-on experience that covers topics from market trends to complex dry bulk material handling challenges.
How can we help?
Maybe you need a new system, an upgrade to an existing system, or a retrofit. Regardless of size, industry, or material, we are here to help you get your project and product moving.
Get in touch