Manual Bag Dump Station
The Nol-Tec manual bag dump is a complete work station equipped with an exhauster fan, cartridge dust collector, and collecting hopper.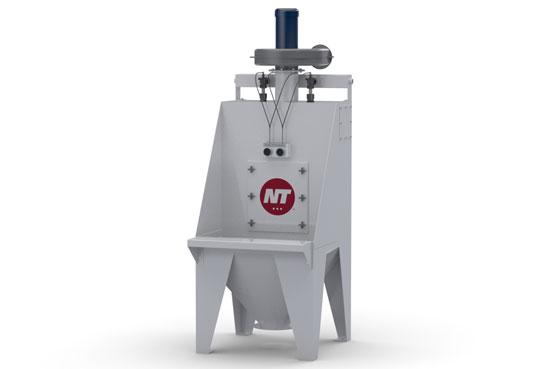 Specifications
To learn more about our Manual Bag Dump Station, please review the specifications below. If you have additional questions, please feel free to hit the get in touch button below and someone from our team will follow-up promptly.
Standard Features:
Heavy-duty mild steel construction
Compact design
Easy filter access
Heavy-duty filter media
Manual push button cartridge cleaning utilizing compressed air
100% material recovery
OPTIONAL FEATURES:
Hopper aeration
Stainless steel construction
Differential pressure gauge
Interior coatings and finishes
Extended work surface
Various discharge designs
Drum dump hopper
Easy access lift assisted door
Differential automatic cleaning
Door proximity switch
Pneumatic and electrical controls
Contact Nol-Tec with any special requirements
SPECIFICATIONS:
Hopper capacity: 5 ft3
Filter area: 180 ft2
Compressed air: Clean and dry at 80 PSIG minimum
Dust capture velocity: 200 FPM
Exhauster: 850 CFM; 1.5 HP; T.E.F.C.; 230-460V/3/60Hz
Electrical: 24 VDC
Resources
We have a vast knowledge base of research and hands-on experience that covers topics from market trends to complex dry bulk material handling challenges.
How can we help?
Maybe you need a new system, an upgrade to an existing system, or a retrofit. Regardless of size, industry, or material, we are here to help you get your project and product moving.
Get in touch