Air Assist™
Nol-Tec's Air Assist™ technology is best suited for use in dense phase pneumatic conveying systems. The Air Assist™ strategically injects air throughout your system allowing your materials to convey longer distances, with reduced pressure and gas flow, while maintaining performance.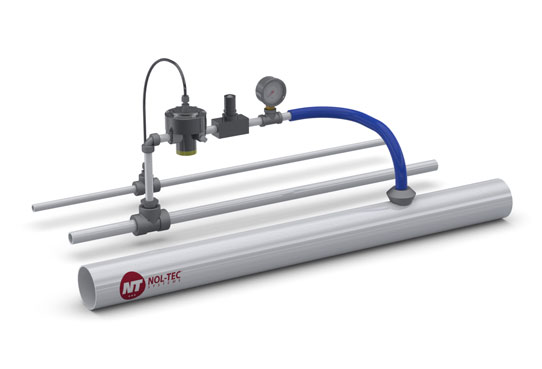 Specifications
To learn more about our Air Assist™, please review the specifications below. If you have additional questions, please feel free to hit the get in touch button below and someone from our team will follow-up promptly.
Standard Features:
Strategically placed along the convey line to distribute energy throughout the dense phase pneumatic conveying system
Pressure differential design prevents backfeeding which may be experienced with low pressure manifold systems
OPTIONAL FEATURES:
USDA Dairy Air Assist™
USDA Dairy compliant with sanitary connections for quick disconnect
Zone Control®
Adjustable convey pressures at various zones along the convey line
Smart Air Assist™
Smart sensors are added to the original Air Assist™ providing convenient manipulation of volume and pressure remotely from the Human Machine Interface (HMI)
Convey multiple products in the same convey line
System maintenance and air consumption are reduced due to optimalSmart Air Assist™ settings
Capture convey data and report system performance
Easily "fine tune" system for peak performance and reduce energy consumption
Resources
We have a vast knowledge base of research and hands-on experience that covers topics from market trends to complex dry bulk material handling challenges.
insights
Learn How to Improve Dense Phase Pneumatic Conveying System Performance, Efficiency, and Reliability with the Use of Air Injector Technology
Learn More
How can we help?
Maybe you need a new system, an upgrade to an existing system, or a retrofit. Regardless of size, industry, or material, we are here to help you get your project and product moving.
Get in touch