2-WAY AUTOMATIC
HOSE SWITCH
The Nol-Tec 2-way automatic hose switch diverts dry, abrasive, or difficult-to-handle materials with minimal product degradation and cross-contamination.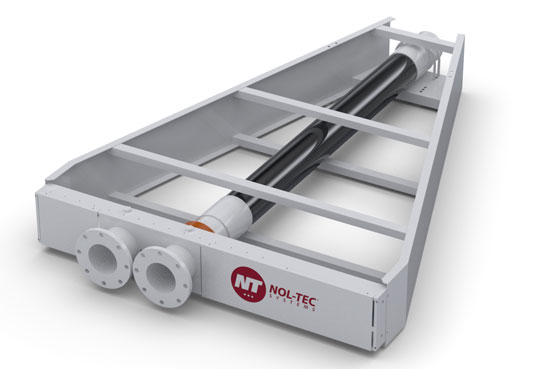 Specifications
To learn more about our 2-Way Automatic Hose Switch, please review the specifications below. If you have additional questions, please feel free to hit the get in touch button below and someone from our team will follow-up promptly.
Standard Features:
Pressure and vacuum, dense and dilute phase conveying
Heavy-duty carbon steel construction
Stainless steel seal and slide plates
Abrasion-resistant rubber hose
Single air cylinder positioning
Conveying pressure up to 75 PSIG
Suitable for converging or diverging applications
Urethane sealing rings
Unused port blocked and sealed
Switches to indicate position
Clean-wipe seal controls
Wide inlet/outlet spacing
OPTIONAL FEATURES:
Stainless steel construction
Stainless steel product contact areas
FDA white rubber hose
Hazardous location design
Flange inlet and outlets
High-temperature design
Hose support frame
Support feet
Electrical: 110-120V; 50-60Hz
Contact Nol-Tec with any special requirements
SPECIFICATIONS:
Compressed air: Clean and dry at 80 PSIG minimum
Electrical: 24VDC
Temperature range: 180° F intermittent; 150° F continuous
Resources
We have a vast knowledge base of research and hands-on experience that covers topics from market trends to complex dry bulk material handling challenges.
How can we help?
Maybe you need a new system, an upgrade to an existing system, or a retrofit. Regardless of size, industry, or material, we are here to help you get your project and product moving.
Get in touch