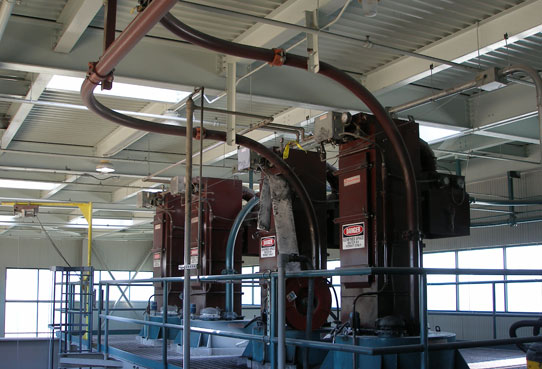 Lauren International is dynamic provider of superior products, services, and solutions across a diverse spectrum of markets through their many subsidiary companies. Demand for Lauren International's molded and extruded rubber products began to rise. Consequently, the need for rubber compounds increased and so did the cost. To meet market demand, improve the rubber compound's quality, and reduce costs, Lauren International decided to build their own rubber compound manufacturing facility.
Lauren International formed a joint venture with GmbH, a global manufacturer of rubber and plastic vehicle components as well as LEDs. The result of the joint venture was LMI Custom Mixing, LLC, a world-class polymer mixing company and Lauren-Meteor, an extruded rubber manufacturer both located in Ohio. Lauren International and Lauren-Meteor would source rubber compounds from LMI.
To produce the rubber compounds, LMI required a processing system to unload carbon black, calcium carbonate, and talc from railcar bulk trucks to large storage silos. From there the materials needed to be weighed, batched, and mixed with polymers and other chemicals to form the rubber compounds. Jon Hull, LMI's General Manager was tasked with selecting a bulk material handling equipment and systems provider. Hull sought a single source partner with an onsite test lab, pneumatic conveying system design expertise, and industry experience – which is why he selected Nol-Tec.
"I FELT NOL-TEC WAS STRONG IN ENGINEERING," SAID HULL. "THE PRICE WAS VERY COMPETITIVE. THE RESEARCH I DID SHOWED THAT WHAT NOL-TEC WAS PROPOSING MADE THE MOST SENSE. THEN WE PROVED THAT WITH TESTING. I JUST FELT THEY TRULY KNEW WHAT THEY WERE DOING."
How We Helped
Visiting Nol-Tec's Test Lab
Hull and his plant manager brought between 500 and 1,000 pounds of carbon black pellets and calcium carbonate and talc powders to Nol-Tec's test lab. The test lab supervisor explained the testing process and expected outcomes. The test was conducted using a dense phase pneumatic conveying system, and data was gathered regarding pressures, air cfm, velocity, and other variables.
A hopper was filled with each material and conveyed to a receiving bin in the same manner that it would need to be conveyed onsite at LMI's facility. Material was dropped into a pneumatic conveying line through a high-pressure rotary valve, and compressed air moved the material through the system.
"You need to add the right amount of air to your system to move the material, but you don't necessarily want to add all of the air at the front of the system, so sometimes you need to use air injectors," said Hull. "Since the carbon black was in pellet form, we concluded that air injector technology was necessary. This technology would be strategically placed along the convey line to inject air, enhancing efficiency, lowering overall resistance, decreasing air pressure requirements, and improving material flow."
Hull was also concerned that the carbon black pellets would generate excessive fines during pneumatic conveying. However, the tests showed that the carbon black pellets could be handled with little product degradation, and that the talc aerated efficiently as well.
The test showed talc's bulk density to be near 40 pounds per cubic feet. After it was conveyed, the bulk density dropped to 18 pounds per cubic feet. It was like water and presented some challenges. By conducting the tests and learning more about the materials' conveying characteristics, LMI was able to prepare for many handling challenges before installation.
"The fortunate thing is I had done some other projects with pneumatic conveying, and I had a pretty good feel for what I was looking for," said Hull. "But I had never done anything with carbon black pellets, and I had heard the horror stories. That's why the testing was critical."
Pneumatic Conveying Design Expertise Delivered
Nol­-Tec designed and manufactured a closed loop rubber compound processing system. Typically, bulk materials used in the production of rubber compounds are messy and can cause employee and environmental safety hazards. Carbon black pellets tend to pack and bridge under pressure in pipes and storage vessels. Talc powder, on the other hand is a lubricating material and behaves in the opposite manner. With this is mind, Nol-Tec designed the system to be capable of easy, regular re-optimization of the transport and control settings over time. LMI plant operators put the system together using Nol-Tec provided drawings.
"Nol-Tec did a good job with their engineering and drawings," said Hull. "If you had a certain part, you could look at the drawings, reference their parts list, and tell exactly where that part was supposed to go. And on a big project like this, that was tremendous. I received many comments from our pipefitters, who said they actually had drawings they could work with. It sounds like a small thing, but when you have hundreds of parts it's really nice."
In operation, trucks deliver the carbon black pellets and calcium carbonate and talc powders to the plant. The carbon black pellets are unloaded from gravity fed, hopper­bottom trucks, pass through a rotary valve into a dense phase pneumatic conveyor, and are carried at a rate of 24,000 lb/hr more than 175 feet to two storage silos.
"It's a very, very clean system. I emphasize clean. We bring a truck in, unload the carbon black, and when it leaves you can't tell that we've had a truck in here. It's wonderful.," said Hull.
The calcium carbonate powder arrives at the plant in a self-unloading blower truck. The powder is dense phase pneumatically conveyed from the truck directly into a single storage silo. The talc powder arrives at the plant in the same manner and is unloaded through a diverter valve into one of two storage silos. Each of the plant's five storage silos has a capacity of 2,373 cubic feet and is constructed to handle materials with a bulk density between 22 and 99 lb/ft³.
From the storage silos, the carbon black pellets are fed through a rotary valve into a dense phase pneumatic conveyor and are dense phase conveyed at 6,000 lb/hr over 360 feet to two receiving bins. Calcium carbonate and talc powders are also conveyed from the storage silos, fed through a rotary valve, and carried by the conveyor to the appropriate receiving bin.
The four receiving bins operate on a keep­full basis. Each bin has a high and a low level and when the system signals that it needs to transfer more material it automatically complies. From the receiving bins, a screw feeder meters the rubber compound materials into one of two correct amounts, into one of two weigh hoppers, which weighs the correct amounts of material needed for the rubber compound. From the weigh hopper the materials are gravity fed into a single mixer.
The mixer operator checks the scale and then adds the appropriate chemicals and polymers into the mixer. The materials then drop out of the mixer into a drop mill, which is where heat is removed from the compound. From there it goes to a blending mill and then to a batch­off system. In the batch­off system, the blended material, which has formed a consistent solid during mixing, is cut into strips and dipped in a mix that keeps the strips from sticking together. Fans cool the final strips of rubber compounds.
"Basically, we take raw materials, polymers, fillers, accelerating agents, curing agents, and some other chemicals weigh and mix them to produce a final form that is compatible with extruding," said Hull.
Positive Outcome
Greater Control, More Savings
Construction of the facility and installation of the original system began in 1998. Two additional system expansions were executed in 2007 and 2016 both of which Nol-Tec was selected to oversee. The system expansions follow the same unloading process as the original system but feature a new type of diverter valve to service three lines from each silo. The control systems have also been updated to feature the latest technology.
By making its own rubber compounds, Lauren International has been able to meet production needs while gaining control over the compounds' quality. The operation's scrap rates have improved resulting in lower production costs. Ultimately, the costs associated with manufacturing the rubber compounds in-house have remained competitive and comparable to purchasing the rubber compounds from third party vendors. LMI is exploring the possibility of supplying rubber compounds to manufacturers outside Lauren International. Overall, Nol-Tec provided a state-of-the-art system that was designed to scale, improved safety, and increased production line efficiency.
What Our Clients Are Saying

"It is a very, very clean system. I emphasize clean. We bring a truck in, unload the carbon black, and when it leaves you can't tell that we've had a truck in here. It's wonderful."
– Project Manager, International Molded and Extruded Rubber Manufacturer
How can we help?
Maybe you need a new system, an upgrade to an existing system, or a retrofit. Regardless of size, industry, or material, we are here to help you get your project and product moving.
Get in touch